Up We Go! is the final episode from Season 3 of Barney & Friends.
Plot
Barney and the kids are playing outside on the playground, and a paper airplane that has a rhyme written on it mysteriously appears from the sky. They each get to take turns reading the rhyme and ask Barney what they mean. In the end, the kids find out it was BJ who was writing those rhymes and Barney has a special flying surprise for BJ!
Educational Theme: Flight
Stories: The Three Butterflies
Cast
Barney
BJ (cameo)
Carlos
Shawn
Min
Tosha
Julie
Stella the Storyteller
Songs
Barney Theme Song
The Rocket Song
The Airplane Song
My Kite
The Clapping Song
Peter Piper
Itsy Bitsy Spider
Hey, Look at Me! I Can Fly!
I Love You
Trivia
This episode marks the final appearance of Julie.
This is the first time no one notices BJ leaving. In addition, he wasn't seen or heard disappearing, instead a paper airplane flies by with a note from BJ.
This entire group (Carlos, Shawn, Min, Julie, Tosha)'s only other appearance was in Barney Live! In New York City (with Kathy, Derek, and Kelly). Four of them (Shawn, Carlos, Min, Julie) who appeared first in this episode also appeared in Shopping for a Surprise!.
This was Shawn, Carlos, Min and Tosha last appearances in the TV series.
Julie wears the same outfit in "If the Shoe Fits..." Put A Ponytail A Back A Hair.
Tosha wears the same clothes from The Good Sports, the same shirt in "Shawn and the Beanstalk", except with pants instead of a dress, and she wears the same pink sneakers in "It's Raining, It's Pouring...".
Min wears the same outfit in "A Welcome Home".
Carlos wears the same shirt in "Ship, Ahoy!".
Shawn wears the same clothes from Goes To Hollywood and Famous Friends. And a short hair.
The Season 2 Barney doll is the same from "Who Left the Juice in the Caboose?".
This is the last time the Season 2/Season 3 version of Season 1's "I Love You" was used.
Four of the kids (Min, Tosha, Carlos and Shawn) returned for the Season 3 home videos.
The Season 2 Barney doll from Help Protect The Earth (episode), and Season 3 episode.
Clip from Up We Go!
Audio from Up We Go!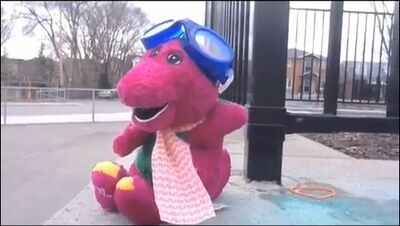 FINALE Of
Season 3
Episodes!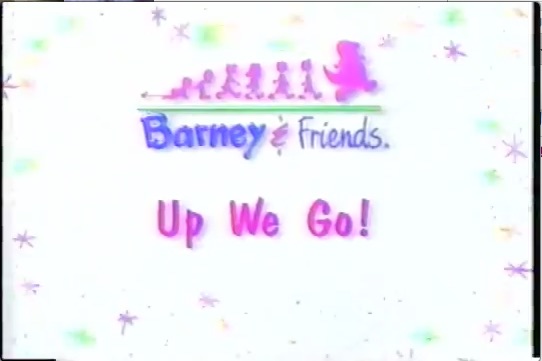 Barney & Friends Episode

Up We Go!
Season 3, Episode 41

Air date
October 11, 1995
Written by
Mark S. Bernthal
Directed by
Bruce Deck
previous
next