The Boy Who Drew Cats is the 10th episode from Season 4 of Barney & Friends.
Plot
Barney and the kids learn about drawing cats. Robert is drawing cats. with paint. I can sing "Here, Kitty Kitty". There are lots of kittens. When Stella comes to visit. Stella goes to Czech Republic. The story it's called "Belling the Cat". Thank you little kitty cat today Robert, You're welcome.
Cast
Song List
Trivia
This is the only time Maria and Chip appear together.
This is the first time Kim, Robert, Kristen, Jeff, Keesha, Danny, Stephen and Ashley appear together.
When the kids say "Barney!" after he came life, the sound clip is taken from "Fun & Games".

When the Child kid say "Hey everybody It's time for Barney Says!" the sound clip is taken from "

Once Upon a Fairy Tale

".

At the end of the Barney doll with a picture of the cats.
The Season 4 Barney doll is the same from  "Is Everybody Happy?".
The Barney costume used in this episode was also seen in "Barney's Good Day, Good Night".
The Barney voice used in this episode was also heard in "Let's Build Together".
The musical arrangements used in this episode were also heard in "Tree-Mendous Trees".
During "I Love You", then Barney right while Maria, Jeff, Keesha, Danny, Chip, Curits, Kristen, Kim, Robert, Stephen and Ashley.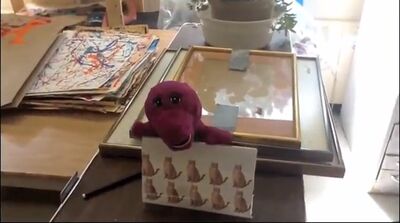 Barney & Friends Episode
The Boy Who Drew Cats
Season 4, Episode 10

Air date
October 2, 1997
Written by
Perri Verdino Gates
Directed by
Fred Holmes
previous
next