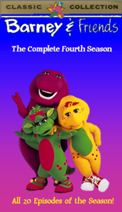 Episodes
Cast & Crew
Cast
Crew
Executive Producers
Writers
Directors
Producers
Music Director
Guest Appearances
Trivia
This season also marks the start of Barney and Friends' Second Era (November 2, 1998)
This season marks the debut of Curtis, Jeff, Danny, Scooter McNutty, and Miss Etta Kette.
The school, playground, and treehouse all get updated for the new generation:

The school doors change from orange to green; the windows have a green trim rather than white; and it now has a wheelchair ramp.
The classroom has been rearranged completely, looking almost nothing like previous seasons.
The playground gets more plants, and a red bench surrounds a tree. The fences have also changed to green rail fences.
The treehouse gets a totally updated, looking nothing like its Season 3 counterpart. Near the back, there is a huge round table, where the kids have snacks, read books, and even make arts and crafts (using the Barney Bag!). In the back of the treehouse, there is a ship wheel that the kids use to pretend that they are sailing. In the front of the treehouse, there are benches that look out to the outside deck of the treehouse.
In addition, a lookout is added to the treehouse. This is where the kids pretend to fly an airplane or watch for a special surprise to come. There are stairs that lead up to the look out, and a slide that connects from the lookout to the back of the treehouse.

Like in Once Upon a Time (video), Stella's stories are now acted out by the kids while Stella narrates them.
A new Barney doll is introduced.
Josh Martin performed the Barney costume from Tree-Mendous Trees to E-I-E-I-O, except for All Mixed Up (which Maurice Scott performed Barney), and in the home video It's Time for Counting.
This is the first and only season in which every episode has at least one new Barney song.
Unlike previous seasons, the credits for this season only feature characters that appeared in the specific episode and not the entire cast.
Some extras become regular cast members during this generation cast.
Unlike previous seasons, the theme song for this season was edited after all 40 episodes were filmed.
The names on the cubbies in the classroom from left to right are: Alissa, Ashley, Keesha, Robert, Stephen, Hannah, Chip, Kim, David, Maria, Dennis, and Kristen.
Although Bob Singleton as the Music Director on the show, Bob Singleton was still a Music Director for a few Barney Home Videos. During this season's home videos, Singleton did Barney's Good Day, Good Night and Barney's It's Time for Counting.
Barney Doll Closing Shots
Ad blocker interference detected!
Wikia is a free-to-use site that makes money from advertising. We have a modified experience for viewers using ad blockers

Wikia is not accessible if you've made further modifications. Remove the custom ad blocker rule(s) and the page will load as expected.