Good, Clean Fun! is the 30th episode from Season 4 of Barney & Friends.
Plot
Hannah is getting ready to go to her Aunt Paula's house for a sleepover and Barney and the kids are helping her get ready. They practice singing bedtime songs, eating popcorn and taking baths. Meanwhile BJ is having problems covering his mouth when he sneezes. Barney, Baby Bop and the kids help him learn the importance of keeping your sneeze to yourself and why germs are bad.
Song List
Cast
Trivia
In 1998 this along with Oh, Brother...She's My Sister was featured in a two pack video.
In the Korean version to this a popcorn machine is used for The Popcorn Song.
At the end, the Barney Doll holds a Towel.
After I Love You, Hannah is ready for her sleepover at her Aunt Paula's.
This group with (Jeff, Hannah, Kristen, and Robert) also appears in "Looking For Rabbits", with Stephen, Danny and Mr. Boyd.
Jeff wears the same clothes from Nick is Little. And a short hair.
Hannah wear the same clothes from The Big Barnyard Show. And the same shorts from The Comic Book: Attack Of The Eraser, Telling The Truth, Becky's Choclate Treats, Playing The Harp, Making New Friends, A Hunting We Will Go (episode), BJ's Hats and Hansel and Gretel. And a half pony tail.
Kristen wear the same clothes from Barney's Summer School. And a pony tail.
Robert wear the same shirt from Happy, Holidays Love, Barney and What Experiment Does Blue Wants to Try!. And same shorts from Good Day, Good Night, and Let's Eat. And a short hair.
The Season 4-6 Barney doll is the same from Let's Be Friends.
The Barney costume used in this episode was also seen in "I Like To Be A Hero".
The musical arrangements used in this episode were also heard in "The Big Chase".
This is the first time BJ sneezes.
Clip from Good, Clean Fun!
Audio from Good, Clean Fun!
-Barneyallday - Barney comes to life (Good, Clean Fun!) - (Clip from Playing it Safe! and Audio from Good, Clean Fun) (Barney & Friends: Playing it Safe! (Season 1, Episode 3))
Gallery
Barney & Friends Episode
Good, Clean Fun!
Season 4, Episode 30

Air date
December 5, 1997
Written by
Perri Verdino Gates
Directed by
Steven Feldman
previous
next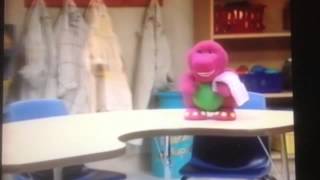 Ad blocker interference detected!
Wikia is a free-to-use site that makes money from advertising. We have a modified experience for viewers using ad blockers

Wikia is not accessible if you've made further modifications. Remove the custom ad blocker rule(s) and the page will load as expected.