Going Places! is the 16th episode from Season 1 of Barney & Friends.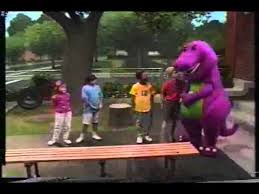 Plot
When Min leaves for a trip to her grandma's to celebrate her birthday, Michael wishes that everyone can go on a trip. With help from Captain Barney, the gang is flown in to Imagination City. There, they explore different transportation methods, from trains and boats to just walking around.
Educational Theme: Transportation
Stories: None
Song List
Cast
Trivia
Min is seen making her cameo appearance at the very beginning of this episode, leaving for her Grandmother's House.
This was Sally the Camel's second appearance.
This is the second time they use the magic words Shimbaree, Shimbarah
During Sally the Camel, the same Sally costume is used from Barney in Concert. It appears again in Carnival of Numbers.
This was the first Barney & Friends episode never to be released on VHS.
A different Barney doll (the same one used at the beginning of "Hop to It!") is used during this episode.
This episode was remade three times. The first time being the Season 6 episode Ready, Set, Go!, the second time was in the Season 6 home video, Round and Round We Go, and the third time being the Season 12 episode Way to Go!: A Travel Adventure.
Before Barney came to life, you can see the doll isn't on the tire swing, before his voice is heard.
Both Sally the Camel, and the "Barney's Fire Department" Fire Truck were used in Barney in Concert.
The end credits show paintings from the classroom not shown anywhere throughout the episode.
The episode was on during the PBS Barney Pledge Drive in March 1993.
Micheal wear the same clothes from We're Having Some Lunch. And a short hair.
Derek wear the same shirt from I Just Love Bugs!, and the same clothes from We Fly A My Kite!. And a short hair.
Tina wear the same clothes from Eat, Drink and Be Healthy!, Putting On A Show and Spring Shene-A-Anigans. And a hairstyle.
Kathy wear the same shirt from Caring Means Sharing, and What's That Shadow?, and the same clothes from Telling Time!. And a half pony tail.
Min wear the same shirt from It's Nice Just To Be Me!. And the same dress from Caring Means Sharing and Hola, Mexico!. And a two buns.
Clip from Going Places!
Audio from Going Places!
Ad blocker interference detected!
Wikia is a free-to-use site that makes money from advertising. We have a modified experience for viewers using ad blockers

Wikia is not accessible if you've made further modifications. Remove the custom ad blocker rule(s) and the page will load as expected.