Books Are Fun! (episode) is the 1st episode from Season 5 of Barney & Friends.
Plot
Curtis and Barney return some books to the school library where they find Booker T. Bookworm, the imaginary Librarian. Despite the fact that one is supposed to be quiet in the library, they burst into song. Booker T. helps find a book Ashley has been wanting to check out and Curtis and Barney bring it to her at the clubhouse. Everybody is excited so they all head back to the library to find more books.
While everybody is busy browsing the catalog, Curtis' obsessive enthusiasm for the library begins to have a weird effect on him. The gang blows it off and return to the clubhouse with their books, leaving Curtis behind.
When Barney and the kids get back to the library they find Curtis to have been transformed into Booker's assistant, complete with worm-suit, spectacles and nasal worm-librarian voice. Barney's a little concerned about this so he finds a book for Curtis to help break this zombie-like spell. Soon Curtis is back to his own special self.
Educational Theme: The Fun of Reading Books and Being Yourself
Stories: None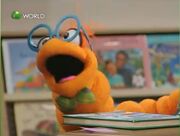 Barney & Friends Episode
Books Are Fun!
Season 5, Episode 1

Air date
November 2, 1998
Written by
Stephen White
Directed by
Steven Feldman

previous

next
Song List
Cast
Trivia
Clip from Books Are Fun! (episode)
Audio from Books Are Fun! (episode)