A Welcome Home is the 18th episode from Season 3 of Barney & Friends.
Plot
Julie, Jason, and Carlos are playing on the playground until Barney comes to life and the group runs into Shawn. He tells them he's building a surprise for the Treehouse. Min arrives soon after Shawn leaves, with one of the puppies that her dog Princess had. She can't take care of him, as she already has a parakeet, a dog, and a cat; so she's looking for someone to adopt him. Julie explains adoption to the other kids, as she was adopted herself. None of the kids seem to be able to adopt the puppy, since Carlos can't have one until his birthday, Jason already has a dog, and Julie would have to ask her mom about adopting a puppy and was thinking about getting a cat. The kids decide to make posters to show that Min's puppy needs a home, but they lose him soon after they're done. They find him and they go up to the treehouse to see Shawn's surprise, which is revealed to be a "bird village." Barney and the kids decide to build the puppy a doghouse after seeing the village. Min goes down to stay with the puppy, while Barney and the others begin to build the doghouse. Julie comes down to see Min, who feels bad that she can't keep the puppy. While Min goes up to see the doghouse, Julie comforts the puppy and sings to him that he'll have "someone to love him forever." Barney and the other kids bring the doghouse down to the classroom. Julie decides that she wants to adopt the puppy, if her mom says it's OK, so he can really have a home.
Cast
Barney
Shawn
Jason
Julie
Carlos
Min
Songs
Barney Theme Song
Little Red Caboose
Johnny Works with One Hammer
BINGO
My Family's Just Right for Me
Where Oh Where has My Little Dog Gone
Four Little Chickadees
Someone to Love You Forever
That's a Home to Me
I Love You
Trivia
In the episode Our Furry, Feathered, Fishy Friends, Julie brings the puppy to school and reveals that she named him Scooter.
Julie sings the first three lines of I Love You by herself, before everybody else joins in.
This group (Carlos, Shawn, Min and Julie) also apperared in The Sword Who Lived In The Kingdom.and Shopping For A Surprise!.
This marks the first appearances of Little Red Caboose, Min sings Oh Where Oh Where Has My Little Dog Gone, Johnny Works With One Hammer and Four Little Chickadees.
On June 4, 2012, there's gonna be a short credits on barneyallday, The first one is daniel is holding a brown door, the second one is Barney doll sits on a Daniel's desk, wave to left hand.
Julie wear the same clothes from Barney The Musical, Sean Abel, Goes To Hollywood and Sharing in the Fun. And a hair-style.
Carlos wear the same shirt from If The Shoe Fits..., and the same pants from Any Way You Slice It, and Let's Play Exercise! And a short hair.
Min wear the same clothes from Up We Go!. And a long hair.
Barney & Friends Episode
A Welcome Home
Season 3, Episode 18

Air date
March 9, 1995
Written by
Mitch Lobrovich
Directed by
Bruce Deck
previous
next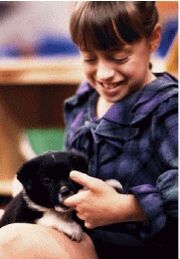 Clip from A Welcome Home!
Audio from A Welcome Home!