Ad blocker interference detected!
Wikia is a free-to-use site that makes money from advertising. We have a modified experience for viewers using ad blockers

Wikia is not accessible if you've made further modifications. Remove the custom ad blocker rule(s) and the page will load as expected.
A Very Special Mouse is the 38th episode from Season 5 of Barney & Friends. It is a remake of the Season 1 episode It's A New Computer Center!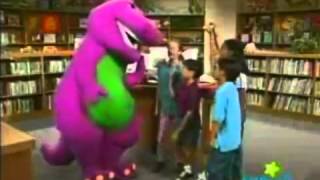 Plot
Danny takes everyone to the school library to show them the new computers and the special screen he created with all his favorite things to do on the computer.
Educational Theme: Computers
Stories: None
Cast
Song List
Trivia
Clip from A Very Special Mouse!
Audio from A Very Special Mouse!
Barney Theme Song (A Very Special Mouse!'s version) (Clip from I Can Be a Firefighter! and Audio from A Very Special Mouse!)
Animals for Julie and Shawn until Derek and Tina arrived (Clip and audio from The Alphabet Zoo! and Audio from A Very Special Mouse! and At Home with Animals)
Talk to Tosha (Clip and audio from Barney Safety and Audio from A Fountain of Fun! and A Very Special Mouse!)
Hi Shawn and Tosha (A Very Special Mouse!) (Clip from Picture This! and Audio from A Very Special Mouse!)
Barney comes to life (A Very Special Mouse) (Clip from All Aboard! and Audio from A Very Special Mouse!)
Barney Why? (1998 Version) (Clip from The Good Egg: Kenya and Audio from A Very Special Mouse!)
I'm Here With All Your Friends at School! (Clip from Barney Goes to School (with the audio) and Audio from A Very Special Mouse!)
Barney The Library (1998 Version) (Clip from Are We There Yet? and Audio from A Very Special Mouse!)
Doug and Becky is arrived at the puppet show! (Clip and audio from Grownups for a Day! and Audio from A Very Special Mouse! and The Alphabet Zoo!)
Can you can guess????????? (Clip from Waiting for Mr. MacRooney and Audio from A Very Special Mouse!)
The Campers! (Clip and audio from It's Tradition! and Audio from A Very Special Mouse!)
Ella Jenkins comes to visit (Clip and audio from A Very Special Delivery! and Audio from A Very Special Mouse!, Aunt Rachel is Here! and Howdy, Friends! These are from Season 5 are from Produced by: Linda Houston, Directed by: Steven Feldman and Witten by: Stephen White, Troy Charles and Perri Verdino-Gates)
This is Super-Dee-Duper! (Clip from Barney's Rhyme Time Rhythm and Audio from A Very Special Mouse!)
Elf leave (Clip and audio from Barney's Magical Musical Adventure and Audio from A Very Special Mouse!, Howdy, Friends!, Barney's Band! and Colors All Around! (episode) (These originally uploaded by: Supernoise)
Barney Let's Go On an Adventure (1998 Version) (Clip from Run, Jump, Skip and Sing and Audio from A Very Special Mouse!)
The ocean adventure! (Clip from Gone Fishing! and Audio from A Very Special Mouse!)
LAUGHING!!!!!!!!!!!! (Clip from Books Are Fun! (episode) and Audio from A Very Special Mouse!)
LAUGH!!!!!!! (Clip from Circle Of Friends! and Audio from A Very Special Mouse!)
Scooter all about Fall! (Clip from Tree-Mendous Trees! and Audio from A Very Special Mouse!)
BJ think about jobs! (Clip from Good Job! and Audio from A Very Special Mouse!)
Barney comes to life, Wiggle on my toe, Imagination island to places! (Clip from Imagination Island (with the audio) and Audio from Barney's Night Before Christmas, It's Tradition!, A Very Special Mouse! and A Sunny, Snowy Day!)
Toes getting wiggle on Barney! (Clip and audio from Imagination Island and Audio from It's Tradition! and A Very Special Mouse!)
Wiggle on my toe before Imagination island for places! (Clip and audio from Imagination Island and Audio from It's Tradition!, A Very Special Mouse! and A Sunny, Snowy Day!)
All about Spaces!!!!!!!!!!!!!! At the Space center! (Clip from Barney in Outer Space and Audio from A Very Special Mouse!)
The Adventure Screen dissappear (A Very Special Mouse!) (Clip from A Picture of Health and Audio from A Very Special Mouse!)
The PJ's Remove before Daytime!!!!!!!!!!!!!!!!!!!!!!!!!!! (Clip and audio from Barney's Good Day, Good Night and Audio from A Very Special Mouse!)
All Exercies At Playground! (Clip and audio from Excellent Exercise! and Audio from A Very Special Mouse!)
Barney Books are Fun! (song) (Season 5 Version) (Clip from Who's Who at the Zoo? and Audio from A Very Special Mouse!)
Miss Etta and Scooter is talking about Washy Hands! (Clip from Good, Clean Fun! and Audio from A Very Special Mouse!)
Lets play Next Robert!!!!!!!! (Clip and audio from Play Ball! and Audio from A Very Special Mouse!)
Thursday is Music!!!!!!!!! (Clip and audio from Seven Days A Week! and Audio from A Very Special Mouse!)
Barney I Love you (A Very Special Mouse!'s version) (Clip from The Foolish Wishes! and Audio from A Very Special Mouse! The Good Egg: Kenya!)
Tosha's necklace to give a hug!!!!!!!!!!! (Clip and audio from Imagination Island and Audio from It's Home To Me! and A Very Special Mouse!)
Kim says "THANKS!!!!!!!!!". (Clip from Grandparents are Grand! (1999) and Audio from A Very Special Mouse!)
Barney says "You're Welcome!". (Clip from Be My Valentine, Love Barney and Audio from A Very Special Mouse!)
Barney I love you (Hop to It's version) (Clip from My Friends The Post Man and Audio from Hop To It!, A Very Special Mouse! and Taking Care of Pets!)
Jackson says "Time to leave!". (Clip from Let's Go for a Ride! and Audio from A Very Special Mouse! and Vets)
Breakfast Stuff at Studios (Clip and audio from Rock with Barney and Audio from All Aboard!, First Day of School and A Very Special Mouse!)
Barney I love you Part 100 (Clip from Animal ABC's and Audio from That Makes Me Mad! and A Very Special Mouse)
Hey everybody! It's time to Barney Says! (A Very Special Mouse!'s version) (Clip from Tea-riffic Manners and Audio from A Very Special Mouse!)
Barney comes to play (A Very Special Mouse!) (Clip from Shopping for a Surprise! and Audio from A Very Special Mouse!)
Barney Says Segment (A Very Special Mouse) (for Barneyandhisfriends/Purpledinocorner/Ourpurplefriend/VideoStationBRNY for Scott)
And remember, I Love You! (A Very Special Mouse!'s version) (Clip from Let's Eat! and Audio from A Very Special Mouse!)
Barney End Credits (A Very Special Mouse!'s version) (Clip from Waiting for Mr. MacRooney and Audio from A Very Special Mouse!)